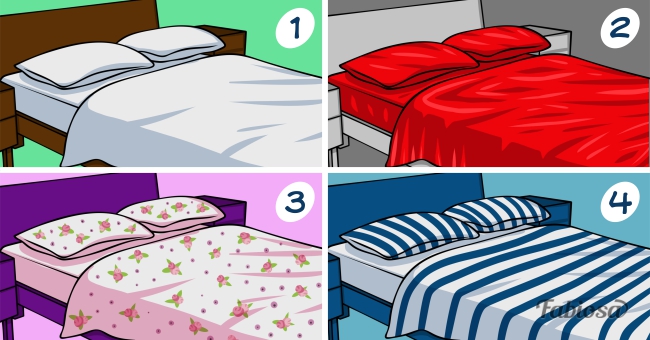 Daudzas sievietes veiksmīgi veido savu karjeru, bet neaizmirst arī par mājas saimniecību. Tas līdzinās pienākumam, kuru gribas izpildīt pat tad, kad to neviens neprasa.
Un tomēr, ne visam izdodas būt par labām saimniecēm. Izrādās, ka mūsu mājas interjers var daudz ko pastāstīt par mūsu spēju saimniekot pa māju.
Šodien mēs piedāvājam jums aizraujošu testu, kas ļaus noteikt, cik laba saimniece jūs esat. Izvēlieties gultasveļu, kuru jūs uzklātu (vai arī tā klājat), un lasiet tulkojumu.
Ja jūs izvēlējāties pirmo, tad jums tīrība un kārtība ir viena no svarīgākajām lietām. Jūs neparko neielaidīsiet mājās cilvēkus,ja nebūsiet pārliecināti par ideālu kārtību mājās. Jums ir svarīgi, lai viss atrastos savā vietā, ko jūs prasāt arī no saviem mājiniekiem. Galvenais, lai tas neizraisītu konfliktus. Jūs esat lieliska saimniece. Tā tik turpināt!
Ja jūs izvēlējāties otro, tad jūs vairāk radāt iespaidu par kārtību, un nevis cenšaties to ieviest. Jūs vēlaties, lai mājās viss izskatītos patiešām bagātīgi, tāpēc ar interjeru neskopojieties. Ne visi pie jums mājās jūtas komfortabli, bet jūs uz to arī netiecaties.
Ja jūs izvēlējāties trešo, tad jūs esat laba saimniece, jo kārtot māju jums patīk daudz labāk, nekā iet uz darbu. Katru dienu jūs veicat mitro uzkopšanu, nodarbojaties ar ziediem un cepat cepumus. Pie jums ir ļoti ērti un mājīgi. Tiem, kuri dzīvo ar jums, ir ļoti paveicies!
Ja jūs izvēlējāties ceturto, tad jūs esat pa pusei saimniece. Jūs zināt, kur un kad vajag uzkopt, tāpēc neattiecieties pret šo lietu ar fanātismu. Jūs dodat priekšroku pieturēties pie minimālisma stila interjerā. Tas nodrošina dabisku tīrību un ērtības! Viltīgs plāns. Slavējami!
Tagad jūs zināt, kāda saimniece esat. Ja jums šis tests iepatikās, tad obligāti padalieties ar to ar savām draudzenēm. Viņām arī būs interesanti!
Avots: